Welcome...
I have created a rich website of services for you and your family in this time of great change. May you find something of value today that takes you further on your journey. You will find ideas to impact your thinking to build self-esteem, improve relationships, and find deeper meaning and purpose for your life.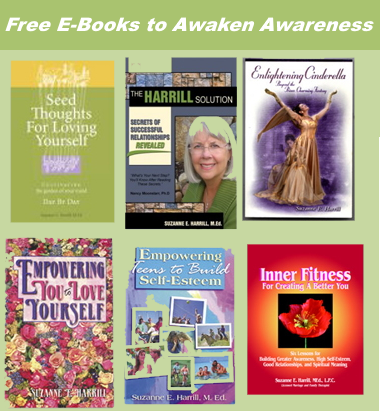 Subscribe to Our Newsletter

The Harrill Solution Video

Sign Up to get a FREE MP3 Download of the Live "Self Esteem -- Be Your True Self Seminar".
The Acorn Analogy


By Suzanne E. Harrill
Deep inside you know how to be you, as
an acorn knows how to be a mighty oak.
The acorn does the best it can do
at each stage of growth along its life-path.
Even if the early start was less than perfect
the eager oak accelerates its desire to grow
every time that it has nurturing from nature:
sunlight, rainwater, and soil nutrients.
YOU are like the acorn, doing your best under
the conditions in which you are growing.
Nurture yourself with awareness, acceptance,
love, self-respect, and self-esteem,
then watch you grow towards
your true Self!
New Book Available on Amazon
Kindle eBook or Paperback
Learn how to use dis-ease and life shocks as catalysts to expand awareness. Meet life challenges with practical suggestions that Suzanne uses in her own life. Undergoing a "Dark Night of the Soul" experience in yourself or a loved one after a crisis is a normal human experience; learn ways to navigate through it. Explore ways to communicate with your body. Allow your body to be your teacher. Whether outer circumstances change, empower yourself to make breakthroughs in understanding, healing, and living your life. Be the master of your health and wellness as you watch your life shift for the better.
106 pages 6x9 Paperback $14.99 Kindle $2.99
Endorsements
Suzanne Harrill is bringing a message to the spiritual growth/personal empowerment community that we have desperately needed. The body is spiritual, too. Sharing her own experience of awakening through her personal health and healing journey and bringing a lifetime of study and experience to this work, she has created a guide for us all—deep, enlightening, comforting. This is the book about healing that we have been waiting for.
Rev. Michael Gott, Musician, Songwriter, Senior Minister Unity Houston
Wake Up! is a must read if you are interested in healing yourself. No matter the complaint, trauma, or diagnosis, you will learn to take charge of your health allowing your body to heal more effectively.
Dr. Lindy Johnson, Inline Chiropractic, Zone Technique Practitioner
Stop resisting your challenges and learn ways to grow from them. This book will show you how!
Nancy Moonstarr, Ph.D. Psychologist, Author, Creator of A Man's Guide to Intimacy
Hi Suzanne, I'm reading your new eBook, Wake Up! Your Body is Telling You Something. I just started reading this morning and already I've received so much. I am especially appreciating your Appendix about grieving. I feel so supported by your wise, compassionate writing. Your book is a treasure! And it also offers so much support.
With love and warmth,
Lily Revere
Client Testimonials