Welcome...
I have created a rich website of services for you and your family in this time of great change. May you find something of value today that takes you further on your journey. You will find ideas to impact your thinking to build self-esteem, improve relationships, and find deeper meaning and purpose for your life.
Articles:
Read More...
The Harrill Solution Video

Sign Up to get a FREE MP3 Download of the Live "Self Esteem -- Be Your True Self Seminar".
The Acorn Analogy


By Suzanne E. Harrill
Deep inside you know how to be you, as
an acorn knows how to be a mighty oak.
The acorn does the best it can do
at each stage of growth along its life-path.
Even if the early start was less than perfect
the eager oak accelerates its desire to grow
every time that it has nurturing from nature:
sunlight, rainwater, and soil nutrients.
YOU are like the acorn, doing your best under
the conditions in which you are growing.
Nurture yourself with awareness, acceptance,
love, self-respect, and self-esteem,
then watch you grow towards
your true Self!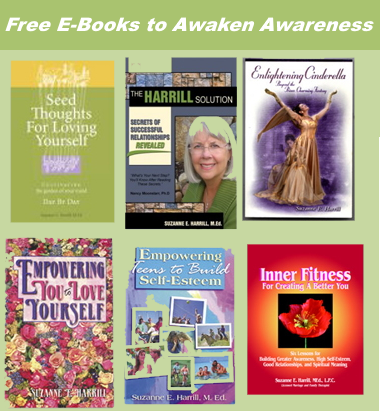 Subscribe to Our Newsletter

Subscribe to the FREE Innerwords Newsletter. A newsletter to spark the Inner Journey. May you find at least one idea that makes your life a little more enlightening today. By subscribing, you'll also receive a free chapter from, "The Harrill Solution."
Read the Current Newsletter Here
Spring 2022: Ways to Be of Service for The Greater Good
Winter 2021: Do You Want to Phone Home Like ET?
Summer 2021: Balancing Polarities Within
Client Testimonials